Latest Updates from 'Dogfart Men' (Page 2)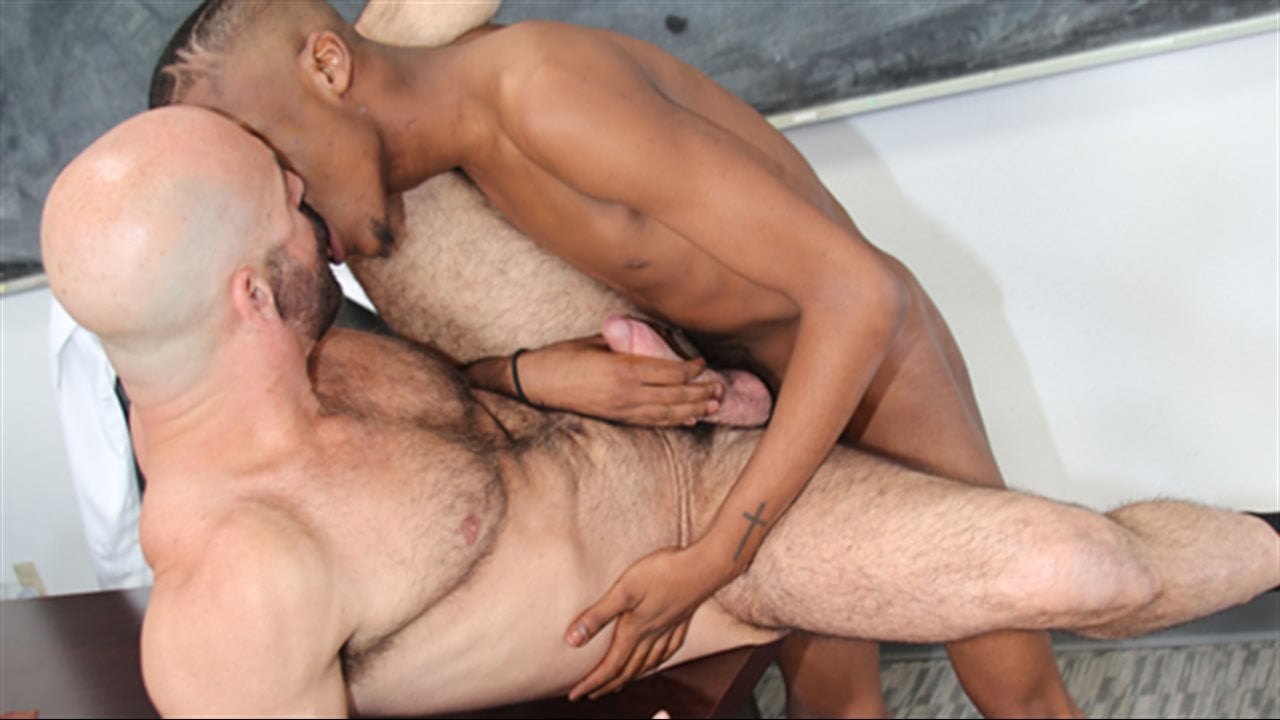 A hairless twink. A mature, hairy 'DILF'. A student who is wondering why he doesn't like want to have sex with his girlfriend. A professor who's popular on campus. Meet Zeero and Professor Adam Russo. Zeero really likes Professor Russo and feels like he can confide in him with just about anything. Professor Russo is popular because he cares about his students and their success, both in and out of the classroom. Professor Russo has also noticed the way Zeero looks at him as he lectures. Sure enough, Zeero has a crush, and Professor Russo is going to show the inexperienced student what Man Love is all about. The professor is somewhat surprised at the size of Zeero's uncut, black cock...only somewhat. He is, after all, black...but Zeero isn't really a big guy. And even though Zeero isn't very experienced with homoerotic encounters, he's about to impress Professor Russo so much that the good professor will have to offer Zeero a teaching assistant job immediately after Zeero unloads a big one right into the professor's mouth!
Tryp Bates is a trust-fund kid. Just look at his house! You think a 25-year-old could afford such a spread? He's also one sassy motherfucker! Spoiled and rich. Just listen to the way he talks to his personal trainer! How long do you think the personal trainer is going to put up with that sort of nonsense? Well today, it comes to an end. Watch this Black Bull pull Tryp Bates from the sofa and put him on his knees! Then, the Bull pulls Tryp's heads into his crotch for a nice whiff or two of his musky, post-workout crotch! Then, it's time for the Bull to shut sassy boy up with his large, thick black cock. Tryp opens as wide as possible, but can barely fit it all in!! The Bull stretches Tryp's mouth open before he warms up Tryp's white, puckered asshole with some rimming. Then, it's time for Tryp's real workout! The Bull is going to push Tryp's limits, fucking and stretching his shit pipe until Tryp simply can't take anymore. Then, it's time for some mutual JO until both men reach huge orgasms! With the workout now complete, Tryp ends his sessions with booking The Bull for another one, same time, next week!
Britain Westbury is one lucky boy! Sure, there's many reasons why. He's got a handsome, in-shape black man in his bed that's got a 9 inch, uncut cock. But he's truly lucky because he met Mr. Cali online, and Britain wasn't 'catfished'. You probably know the term. When you're catfished, someone sends you a fake picture, claiming it's that person. It happens so much these days, it's common. When Britain's partner is out of town, he gets online to hunt for BBC. With Mr. Cali, Britain hit the lotto! What a body Mr. Cali has! What a cock! And Cali is just as excited, cause afterall, who wouldn't like a piece of Twink? Britain is barely-legal, smooth, and tight. So tight, Britain really means it when he tells Cali to 'loosen my ass for my boyfriend!'