Latest updates featuring Billy Eastmore
Mr. Cali is one of the most popular trainers at Billy's gym, and like many of the men and women in the place, Billy can't keep his eyes off him. Mr. Cali is trim and fit and everyone who works out at the gym can see Mr. Cali's ridiculously large bulge in whatever it is he's wearing that day. It doesn't matter if it's shorts or sweats, everyone knows Mr. Cali is packing. Billy gets his chance alone with Cali after a long workout in an empty locker room. The gym's closed, and everyone's left...except those two. Billy makes his move, which is nothing new for Mr. Cali. Men and women alike approach him on a daily basis wanting a taste of his over-sized dong. Today, it's Billy's chance! Of course he's on his knees in a heartbeat, and then he offers up a barely-used manpussy for Cali's pleasure. Cali pounds the shit out of Billy before unloading all over Billy's face! Call it 'workout number 1' for Billy and his new personal trainer...and Cali will be charging Billy for this session!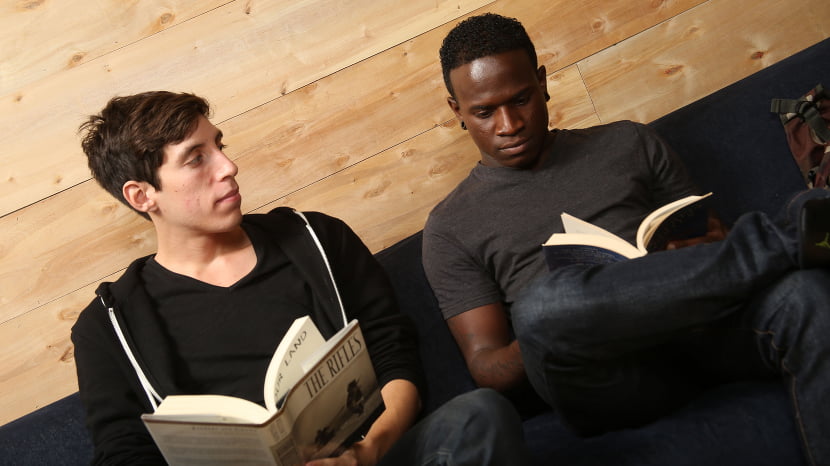 Spolier Alert: Guy gets his first dick on camera.Billy Eastmore is confiding in Tyko about his girlfriend and the headaches she causes. Tyko lets it go in one ear and out the other. Tyko's only concern is getting his best friends mouth on his big black cock.....a task that could be difficult since Billy doesn't swing that way. We being with both guys jacking off and it escalates from there. Tyko keeps the pressure on until Billy throws up the white flag and sucks his first ever cock. Tyko's meaty black dick slides its way down Billy's throat and his girlfriend has no idea that her man is getting his first ever dicking. Tyko gives Billy's mouth a rest and aims right for that tight virgin asshole. Tyko keeps pounding on that convert to dick (black dick, no less) and leaves Billy's girlfriend some evidence that her man is now a lover of black cock. Billy gladly welcomes Tyko's load down his throat so he can experience what his girlfriend USED to swallow on a nightly basis. No more.